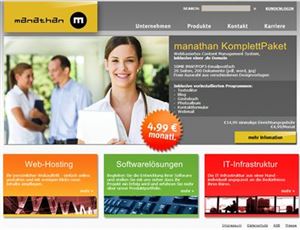 CTO, Development, Management, Leitung IT, Development & Design, Strategy, Projectmanagement B2B
The manathan software GmbH was selling webhosting contracts based on their inhouse-developed manathan web content management system. The CMS was targeted at business clients that needed a portfolio with multiple websites including one or multiple corporate websites & microsites, webmail, CRM, workflow management, versioned documentstorage and usermanagement including group-based rights-management with LDAP connection - all in one tool.
Matthias was the only developer for manathan web; a CMS he developed when he was in the board of the sports club of the University Bolzano and a website for an event was needed. Together with two friends he founded the company, did acquisition of new customers, handled first-to-third-level customer support, and created a scaleable infrastructure for the CMS as partner of the 1&1 Internet SE based on their server hosting solution.
The languages and frameworks included c# with .NET, JavaScript, MSSQL, and MSMQ. The continuous integration was based on TFS, the deployment was done with powershell scripts.
Projects
http://www.manathan.net